Kitchen & Bathroom Remodeling in Fresno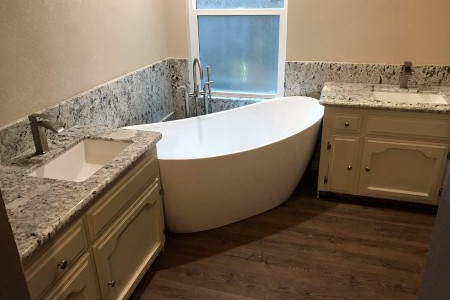 Whether you need a complete or partial kitchen or bathroom remodel, our plumbing professionals can handle it. If your plumbing system is old or in need of repair, you can potentially save time and money by doing a complete plumbing remodel. No matter what your remodeling needs may be, our expert plumbers are here to help!
We offer a wide variety of plumbing fixtures to choose from that can improve the functionality and appearance of your bathroom and kitchen. Our expert plumbers can provide you with a professional kitchen and bath remodel no matter how complex it may be. We can update your outdated plumbing systems and fixtures, remove and replace plumbing pipe, relocate plumbing components and much, much more.
Our Fresno Remodeling Service Includes:
Bathroom Remodeling
Plumbing Remodel
Kitchen Remodeling
Toilet Repairs
Bathroom Plumbing
Plumbing Repair
Kitchen Plumbing
Faucets
Sinks
Plumbing Fixtures
Showers
Bathroom Remodeling
If You are Looking for Experienced Plumbing, Heating & Cooling Professionals in Fresno, then Please Call Us Today or Complete Our Online Request Form.