Welcome to PR Plumbing, Heating & Air Conditioning Inc. : Madera Plumber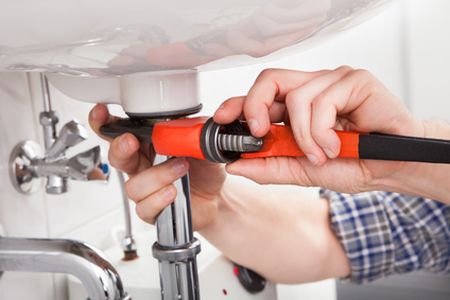 When you call our Madera plumbers and HVAC technicians for service, we will listen to your needs. PR Plumbing, Heating & Air Conditioning Inc. is a service-oriented company that has been operating locally since 2000, and we would love to show you why so many have trusted only us.
We know you need access to a reliable company who is available after hours, so call us anytime for emergency plumbing or HVAC repair service in Madera. You can also count on us for a broad array of plumbing, heating, air conditioning, refrigeration, insulation, solar, water heating, indoor air quality, and maintenance services.
Plumbing
Dealing with plumbing clogs, leaks, and sewer line replacements is no problem for our plumbers. You can count on our Madera plumbers whether you need help with your commercial or residential plumbing repairs, replacements, or new installations for remodeling.
We also offer other plumbing services such as back flow testing, video inspections, water heaters, and drain cleaning. Just call to let us know what you need.
Air Conditioning & Heating
If you looking for a reliable air conditioning company in Madera, trust PR Plumbing, Heating & Air Conditioning Inc. for all your service needs. Our HVAC technicians are highly skilled and trained to work on all makes and models of residential and commercial cooling and heating equipment.
Indoor Air Quality
Air cleaners are more a necessity today than they are a luxury. With air pollution on the rise and homes beings built tighter for energy efficiency, the indoor air quality can be full of harmful vapors and microorganisms that get trapped inside the house.
Air scrubbers can be installed to remove this pollution, ridding your indoor air of all the contaminants that cause Sick Building Syndrome. Let's talk about some options.
Reviews & Testimonials on PR Plumbing, Heating & Air Conditioning Inc. in Madera, CA
Thomas was wonderful. He showed up with a great attitude, diagnosed the problem with my complicated hydronic water heater quickly and we had hot water and heat in the house 20 minutes later. This was especially meaningful as we had waited for 6 days for (another company) to find a part, when a part was not even necessary. I will also be leaving a review for them, only not quite as nice... I would highly recommend Thomas and PR Plumbing!!
Recent Articles for Madera, California
Is a Gas Furnace Right for Your Fresno Home

It's important to keep your home equipped to get you through the cold winter months. This means you need to maintain a dependable heating unit in your home – but which heating unit is right for you? […]

Do You Need Emergency AC Repairs?

Air conditioning malfunctions are fairly common, and discovering what is causing the disruption in your cooling system can be difficult. Reaching out to a reputable Fresno HVAC contractor for your AC […]
If You are Looking for Experienced Plumbing, Heating & Cooling Professionals in Fresno, then Please Call Us Today or Complete Our Online Request Form.